Manitowoc, WI – April 23rd, 2009 – On Sunday, April 5th, Kurt Dramm and his greenhouse was featured in the Herald Times Reporter and the Lakeshore Living Magazine.
Kurt Dramm, owner of Dramm Corporation, was raised in the floral business. In 2005, he built a small research greenhouse. Dramm inspects all watering nozzles Dramm Corporation manufactures. He tests for durability and for water patterns. "I want to insure the Dramm nozzles work correctly with large water flows," Dramm says.
Kurt also uses the greenhouse to run fertilizer trials on different species of plants. The trials compare Dramm's Drammatic® "One" and Drammatic® "K" fertilizer against other fertilizers produced from fish scraps and other commercial organic fertilizers. To date, the trials have been run on orchids, cyclamen, geraniums, and impatiens.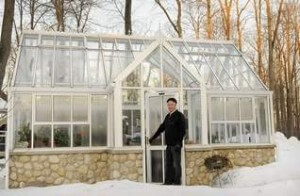 Dramm Corporation has a fish plant in Algoma, WI that produces a full line of Drammatic® Fertilizers from wild fish scraps. Millions of gallons have been sold to large organic dairy farms, organic wheat, corn, and soybean growers. All Drammatic® blends are listed by OMRI (Organic Review).
To see the full articles on Kurt Dramm's Greenhouse go to http://www.htrnews.com or look for the newest issue of the Herald Times Reporter and the Lakeshore Living Magazine.
Dramm has been making professional watering tools for nurseries, greenhouse growers and avid gardeners for over 65 years. Dramm strives to produce products that save time and energy while providing quality products that will last a lifetime.