QAV Shut-Off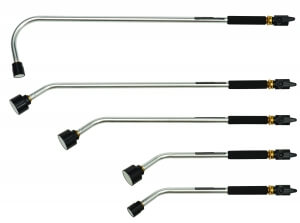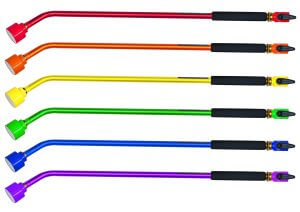 The NEW QAV Shut-Off is made in the U.S.A. and features robust construction for increased durability and longer life. The oversize                                                                                                                                                                                        handle is designed to provide easy finger tip water control. A simple quarter turn of the handle and the water is off, even with wet hands, The QAV Shut-Off is available as an accessory and on all the Sunrise™ and Classic™ Rain Wands™.
25′ x 1/2″ ColorStorm™ Premium Rubber Hose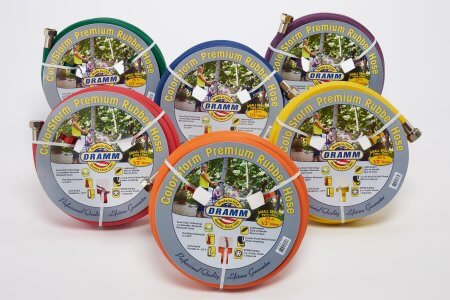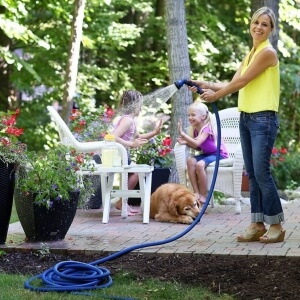 Designed with a 1/2″ inside diameter, that is 25% lighter then Dramm's 5/8″ diameter hose for a lighter feel, easy handling and easy storage.
Made in the U.S.A. and molded from quality EPDM rubber, which will not crack, check or separate.
This premium rubber hose resists kinking, coils easily and withstands hot water up to 160°F. Crush proof nickel-plated couplings complete this quality hose; Available in Dramm's six vibrant colors. The ColorStorm™ Premium Rubber Hose is also available in 5/8″ diameter and comes in 25′ and 50′ lengths.
Drammatic® Organic™

Dramm re-brands the Drammatic® Liquid Fish Fertilizer with vibrant NEW packaging to announce Drammatic® Organic™!
With an increasing demand to focus on environmentally friendly products, Dramm's Drammatic® Organic™ Liquid Plant Food is the professional's choice for all-natural fertilizer. Consumers can receive the same formula as used by organic growers. Safe, proven and effective!
Dramm saves and processes over 4 million pounds of fish scraps and waste per year that would otherwise fill landfills, into an environmentally friendly fertilizer. By using waste products from fish processing facilities, Drammatic® Organic™ Liquid Plant Foods are an environmentally sound program that will help restore the earth's biological soil web.
Drammatic® Organic is made from fresh scraps processed at low temperatures to maintain the integrity of the naturally occurring amino acids, vitamins, hormones and enzymes that are so essential to plant and soil health. This method produces a product called a "hydrolysate".
The NEW Drammatic® Organic™ Fertilizer w/Kelp contains natural plant hormones to support optimum plant growth and increase resistance to environmental stresses. Drammatic® Organic are used for organic, sustainable or conventional crops and is available in Pint, Quart, and Gallons.
---
New Merchandising Displays
60113 Display
24 – 16″ Sunrise Rain Wand
24 – 30″ Sunrise Rain Wand
36 – Revolver
12 – Pistol
12 – One Touch Shower & Stream
6 – One Touch Fan Nozzle
12 – ColorPoint Compact Pruner
12 – ColorPoint Compact Shear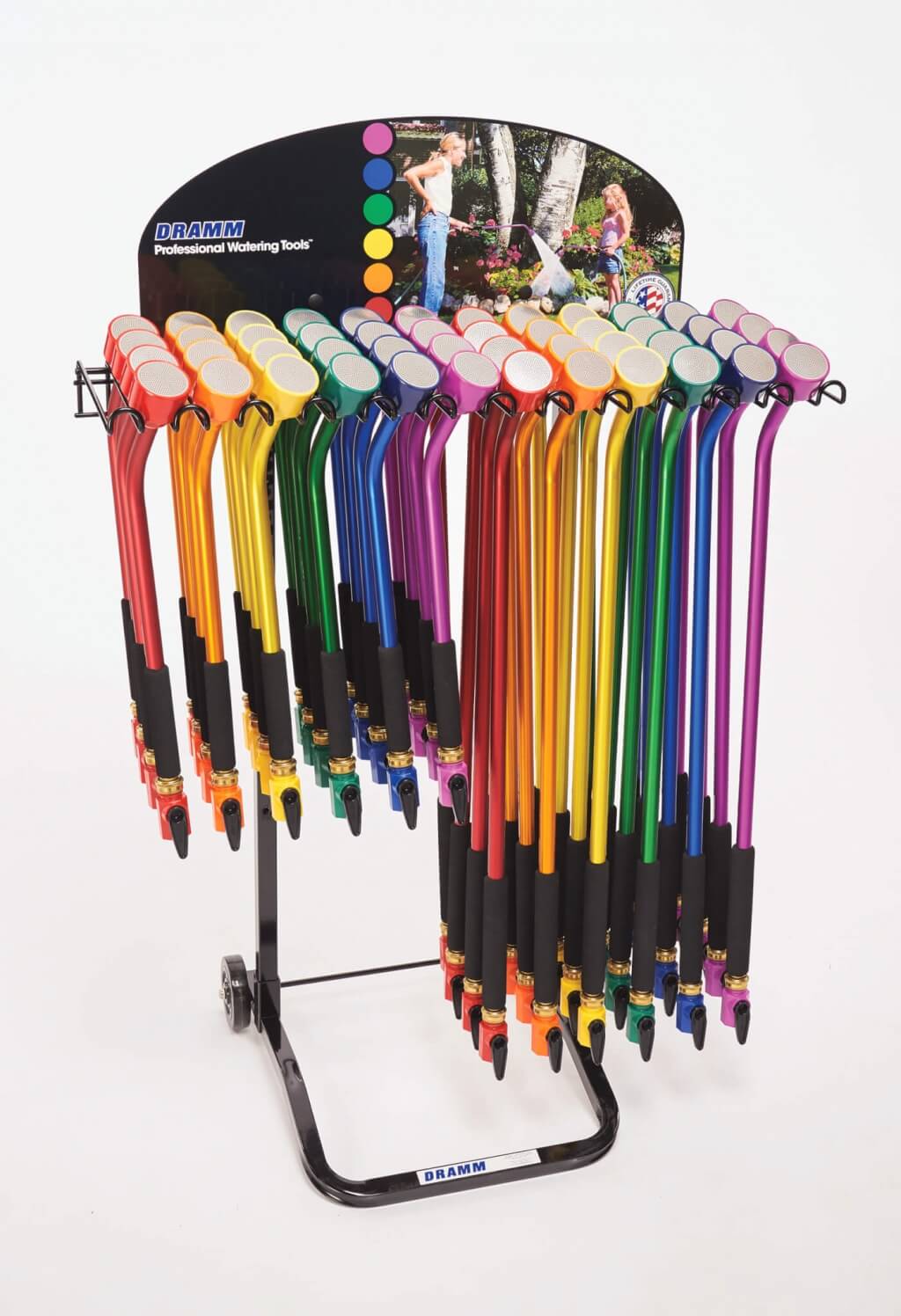 64012 Display
24 – 16″ Sunrise Rain Wand
24 – 30″ Sunrise Rain Wand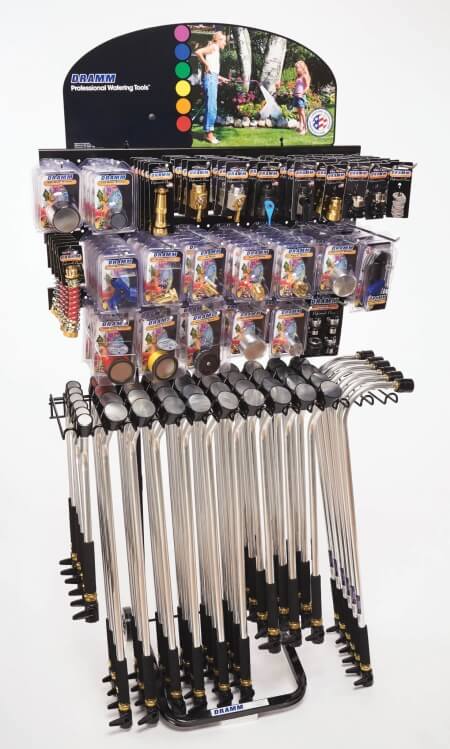 60130 Display
24 – 30″ Classic Rain Wand
12 – 24″ Classic Rain Wand
6 – 16″ Classic Container Wand
6 – 36″ Classic Hanging Basket Wand
4 – 1000 Water Breaker Nozzle
4 – RainSelect 9-Pattern Spray Head
4 – 750PL Water Breaker Nozzle
4 – 400AL Original Water Breaker Nozzle
4 – 400DC Water Breaker Nozzle
4 – 400PL Water Breaker Nozzle
4 – 170PL Water Breaker Nozzle
4 – 170AL Water Breaker Nozzle
6 – QAV Shut-Off Valve
6 – Heavy Duty Plastic Valve
6 – Aluminum Shut-Off Valve
6 – 300 Brass Shut-Off Valve
6 – Twin Shut-Off Valve
6 – Adjustable Hose Nozzle
6 – Hose Protector
6 – 510 Seedling Nozzle
4 – Fogg-It Nozzle Fine
6 – Jet Wash Nozzle
6 – Sweeper Nozzle
6 – Replacement Washers
4 – Plastic Syphonject with 170PL Water Breaker Nozzle
4 – Aluminum Quick Change System
6 – 5/8″ ColorStorm Male Hose Mender
6 – 5/8″ ColorStorm Female Hose Mender
6 – Brass Hose Swivel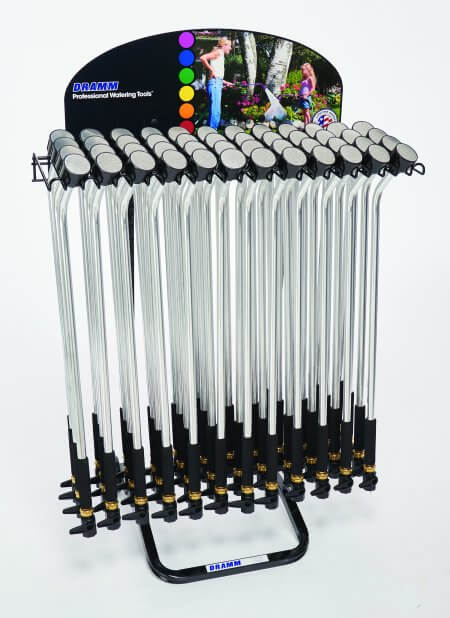 60003 Display
48 – 30″ Classic Rain Wand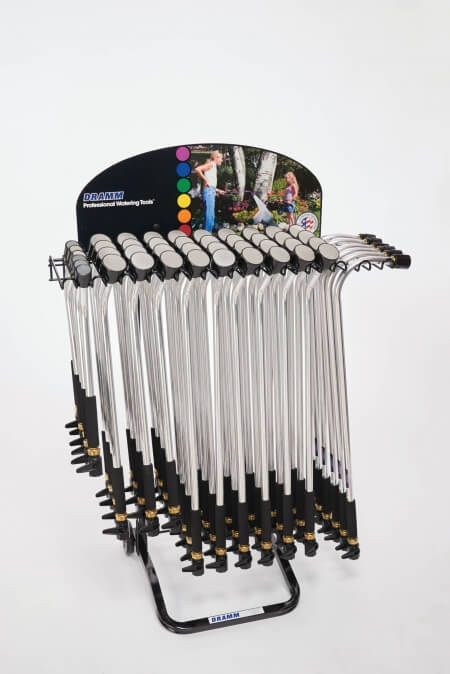 60004 Display
24 – 30″ Classic Rain Wand
12 – 24″ Classic Rain Wand
6 – 16″ Classic Container Wand
6 – Classic Hanging Basket Want

60127 Display
24 – 16″ One Touch Rain Wand
24 – 30″ One Touch Rain Wand
12 – Revolution 9-Pattern Spray Gun
36 – Revolver
12 – Pistol
6 – One Touch Shower & Stream
6 – One Touch Fan Nozzle
5 – 32 oz Bottles of Drammatic Organic Fertilizer w/Kelp

60128 Display
Small Spaces Display
12 – 16″ One Touch Rain Wand
12 – 16″ RainSelect Rain Wand
24 – Revolver
6 – One Touch Shower & Stream
12 – ColorPoint Compact Pruner
12 – ColorPoint Compact Shear
5 – 32 oz Bottles of Drammatic Organic Fertlizer w/Kelp
6 – 25′ x 1/2″ ColorStorm Premium Rubber Hose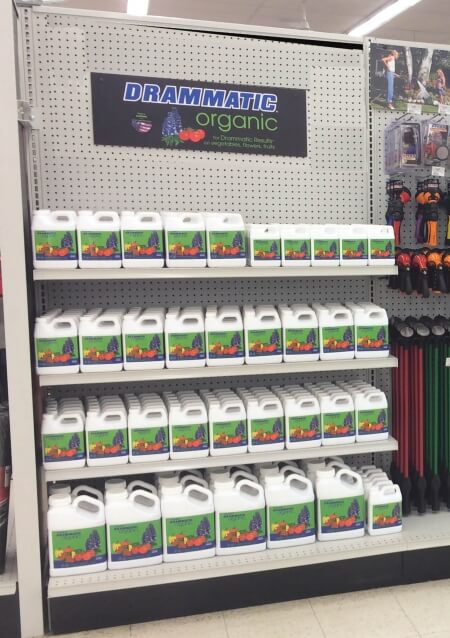 Drammatic® Organic™ Planogram 
---