Manitowoc, WI – July 25th, 2013 – The Dramm Corporation is proud to announce a planned succession in family ownership.
Kurt and Marlene Dramm have completed the planned ownership transfer to their son Hans Dramm and daughter Heidi Dramm Becker. "The Dramm Family has been in continuous businesses including meat, flowers and manufacturing since 1853." said Kurt Dramm, "Therefore I am exceptionally pleased and proud that my children Heidi Dramm Becker and Hans Dramm will continue the tradition of a family owned company." Kurt and Marlene Dramm will remain on the Board of Directors and Kurt will continue at the company on a daily basis as Chairman Emeritus.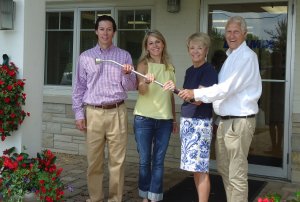 Dramm Corporation has announced that it is passing the Rain Wand™ to the next generation. Receiving the Rain Wand™ from Kurt and Marlene Dramm (pictured right) are Hans Dramm and Heidi Dramm Becker (pictured left).
Hans Dramm has been named Chief Executive Officer. Hans will also continue his responsibilities as Chief Financial Officer and as a member of the Board of Directors. "It is wonderful to have the stewardship of the Dramm Corporation continue through the succession to the next generation of family members," said Hans Dramm, "I'm honored to accept my new responsibilities but also buoyed by our strong history and the support and commitment of our dedicated employees. Since returning to the Dramm fold six years ago, I've learned a great deal about Dramm's special position in the grower and retail lawn and garden sectors. Dramm is grateful for the enduring loyalty and support of our customers and we are committed to maintaining the highest quality products and customer service in the industry. We consider our employees and customers as members of an extended family. Dramm is and will continue to be a family company."
Heidi Dramm Becker has been named Executive Vice President. Heidi's responsibilities center on corporate identity and communications and she continues to serve as a member of the Board of Directors and as the face of the Dramm brand in all of the marketing and advertising materials. "It is an honor and a privilege to play a role in carrying on our family's history of the Dramm Corporation." said Heidi Dramm Becker, "As the Dramm Corporation moves into the future, we will continue to build on the tradition and values of the past generations. Values that were put in place by my grandfather and grandmother (John Dramm and Perdita Dramm), my father and mother (Kurt Dramm and Marlene Dramm) and several other family members and employees, all of whom have been "gardeners of the corporation"."
Kurt Becker, son-in-law, has also been named Executive Vice President. Kurt continues his responsibilities as Director of Commercial Sales and Marketing and serves as a member of the Board of Directors.
Dramm has been making professional watering tools for nurseries, greenhouse growers and avid gardeners for over 65 years. Dramm strives to produce products that save time and energy while providing quality products that will last a lifetime.