50′ ColorStorm ⅝″ Garden Hose
Our ColorStorm Premium Rubber Hose is the best garden water hose available on the market. Made of EPDM rubber, this 5/8″ garden hose won't crack, check, or separate. SureGrip technology resists kinking, and will allow the hose to coil easily–even in cold weather. Hot water rated up to 160° (generally, home water heaters are set to 120°-130°). While typical residential water pressures can be between 40 and 80 pounds per square inch, the working pressure of our hose is rated at 130 psi with a burst pressure of 518 psi.
Crush-proof nickel plated, brass fittings
340 psi Pull Strength – Our fittings will not pull off the hose.
Hexagonal Shape – resists kinking.
15% Thicker Wall – coils easily, flexible to –25°F
EPDM Rubber – won't crack, check or separate. Durable like car tires.
Acid Resistant – used on farms yards and food processing facilities.
This durable, abrasion resistant hose is available in 50-foot or 25-foot lengths and a choice of six brilliant colors. Professional quality for residential lawns and gardens. Made in the USA with a lifetime consumer guarantee.
Durable and abrasion resistant, this high-quality hose is hot water rated up to 160° with a working pressure of 130 psi. Made in the USA with a lifetime consumer guarantee.

Enjoy a professional quality, premium garden hose at home and in your garden. Used by professional growers, horticulturists and farmers worldwide.

EPDM (synthetic) Rubber, and Nickel-Plated, Solid-Brass Fittings

Made in the USA
Edit Model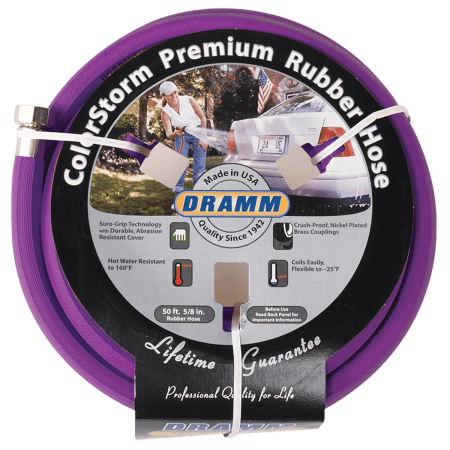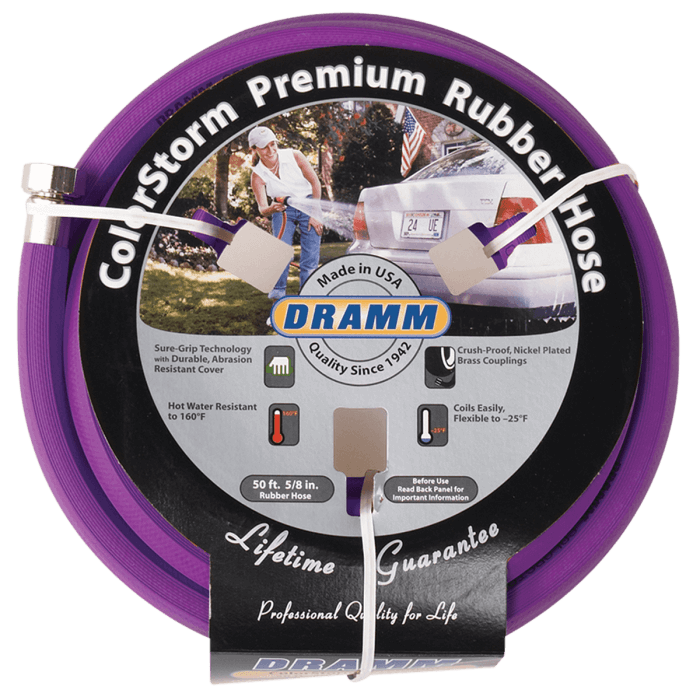 Coverage & Flow Rate
Flow Rate
Water Pressure Rating
Min: 30 psi — Max: 130 psi
Low Pressure Use
Yes
Weight & Dimensions
4.444 lbs
Dimensions
50.000″ x 2.222″ x 3.333″
Are you attending the Chicago Flower & Garden Show at Navy Pier March 21 and/or March 24?! If so come check out Dramm's Educational Talks!

read more...
See All How-To Gardening Tips