Touch'N Flow Revolver Spray Gun
Wash your car, boat, dog or horse. Clean your deck and sidewalk. Water your flowers and young trees. The nine-pattern revolver spray gun aids in any outdoor function involving water. The nine patterns include: fan, cone, center, jet, mist, soaker, flat, angle, and shower. The lightweight revolver has an ergonomic insulated grip. The revolver is constructed with heavy-duty metal. Comes with a lifetime guarantee to the consumer and is available in six bright colors that won't get lost in your lawn. Makes a great gift! Any of the Revolver Spray Guns can be color coordinated with Dramm's ColorStorm Premium Rubber Hose.
Easily switch between water flow selection with the quick-change feature Ergonomic insulated grip and made with heavy-duty construction

Wash your car, boat, dog or horse; clean your deck and sidewalk; water your flowers and young trees Aids in any outdoor function involving water

Zinc, Brass, TPE Rubber

Made in Taiwan
Edit Model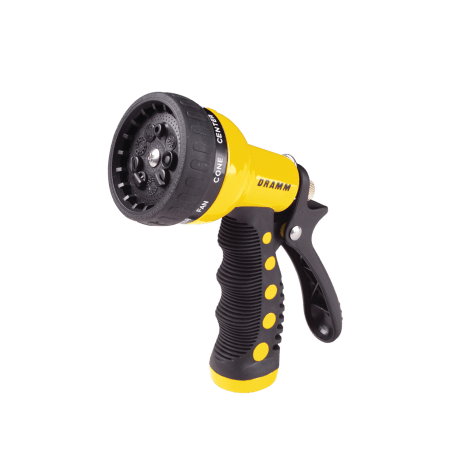 Coverage & Flow Rate
9 Pattern Multi-Spray Revolver
Flow Rate
variable
Water Pressure Rating
Min: 20 psi — Max: 90 psi
Low Pressure Use
No
Recommended Use
great multi-purpose spray gun – move from cleaning to watering with a twist!
Weight & Dimensions
4.444 lbs
Dimensions
1.111″ x 2.222″ x 3.000″
Manitowoc, WI – The Dramm Corporation, a leading manufacturer of high-quality watering tools, announces one employee celebrating 40 years of employment at Dramm and two employees retiring. The Dramm family congratulates Theresa Krejarek on her 40thanniversary at the Dramm Corporation! Theresa serves as 

read more...

Give up gardening? No way! Today's seniors are active. Even though their living environment may be smaller, it doesn't mean forgoing healthy hobbies like gardening.

read more...

Are you attending the Chicago Flower & Garden Show at Navy Pier March 21 and/or March 24?! If so come check out Dramm's Educational Talks!

read more...

With a little care in preparing for winter, your tools will be ready when Spring arrives!

read more...
See All How-To Gardening Tips